Progetto del Mese : Bracciale Criss Cross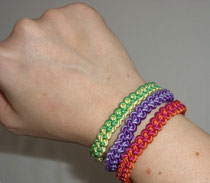 Materiale: 1 metro  di soutache in due colori
                      chiusura magnetica
                      colla
                      forbici
Materials: 1 meter of soutache ribbon in two colors
                      magnetic clasp
                      glue
                     scissors
1. Fare un nodo ad un estremità dei cordini legandoli tra loro.
Make a knot on one end of the two cords tying them together.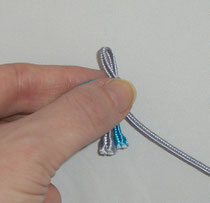 2. Piegate su se stesso uno dei due cordini formando un'asola.
Fold one of the two cords on itself forming a loop.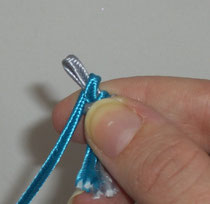 3. Fate poi un giro intorno all'asola con l'altro cordino dal fronte verso il retro del lavoro come da foto.
Pass the other cord around the loop traveling from front to back as shown in the picture.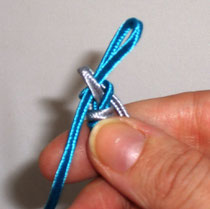 4. Sempre con lo stesso cordino formate un'asola ed inseritela all'interno della prima asola. Stringete la prima asola tirando il cordino corrispondente.
With the same cord form another loop and insert this loop through the first one. Pulling on the cord tighten the first loop.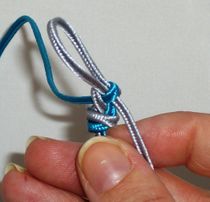 5. Ripetete come nel punto precedente facendo un'asola con l'altro cordino e passando poi la nuova asola all'interno della precedente. Dopodichè stringete l'asola precedente. Fate attenzione a tenere i cordini piatti e l'asola con i lati parallelli cosi d'avere un risultato migliore. Dovete continuare a formare le asole incrociandole tra loro, alternando i colori fino ad avere la lunghezza necessario per il Vostro bracciale.  Il mio bracciale e lungo circa 15 cm. senza chiusura. Tenete presente che il mio polso è di misura piccola. 
Repeat as in the previous step making a loop with the other cord and passing the new loop in the one before. Then tighten the old loop around the new loop. Make certain that your cords aren't tangled when looping, they have to be parallel and flat to have a better finished result. To finish the bracelet you have to continue repeating this step alternating the cords. My finished bracelet is 15 cm. long not including the clasp. Please keep in mind that my wrist is pretty tiny.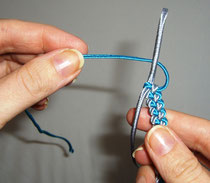 6. Per finire passate il cordino opposto all'asola rimasta all'interno dell'asola come da foto. Dovete ripetere anche per l'inizio del lavoro in quel caso prima dovrete sciogliere il nodo. 
To finish your work pass the opposite cord in the remaining loop as pictured. You will need to repeat this step for the beginning of your bracelet, first you will need to untie the knot then pass the cord in the loop as with the other end.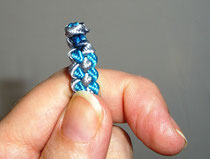 7. Ora terminiamo il bracciale incollando l'estremità tra loro arrotolando un cordino sull'altro facendo attenzione a creare un attacco per la chiusura che riesca ad entrare nel cilindro. Io ho utilizzato la colla Super Attak. Tagliate l'eccesso dei cordini e incollate il bracciale alla chiusura.
To attach the clasp glue the ends of the cord to each other wrapping one cord around the other. Make sure that the ends of the cords fit in the clasp before glueing them. Cut the excess cords and glue the ends of the bracelet to the clasp.